Jurassic World: Dominion Dominates Fandom Wikis - The Loop
Play Sound
Husk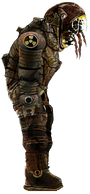 Stats
Health

100

Armor

N/A

Weakpoints

N/A

Armored Points

N/A

Speed
Walking

1.5 walk - 4.3 run

Swimming

1 slow - 1.6 fast

Behavior
Aggressive?

Always

Can Enter Submarine?

Yes

Sight

0.5

Hearing

1

Drops
only 1 of the items marked with an asterisk * may drop at a time
Item(s)
Chance
None
73%

Velonaceps Calyx Eggs

27%

Husk Stinger

9%
Versioning - Potentially Outdated

Last updated for version: 0.10.6.2
Current game version: 0.11.0.10
The Husk is a human-based enemy that can manifest in Barotrauma.
Description
[
]
Husks take on the form of Human divers which have become infected and taken over by an instance of Velonaceps Calyx. Their appearance is equivalent to that of a regular crew member wearing a rusted orange Diving Suit, with the biggest difference being three small stingers protruding out of their broken helmets.

Due to the broken Diving Suit, and Loading Tips that include this type of creature, the parasite is capable of killing the host and consuming the body over some period of time, turning their suit into a vessel for the parasite to control.
Husks tend to appear in small groups of 2-3 individuals, compensating for their individual frailty, they are usually found in ruins and wrecks.
In-game
[
]
Husks act primarily as disruptive enemies. They are small enough to enter the submarine's corridors and attack crew members therein, which they have a strong compulsion to do in case of a hull breach; however, they are unable to damage the hull themselves. They are easily distinguished from normal diving suit-wearing crew due to the tendril in their headgear, as well as the rusted, grimy look of the outer layer of the suit.
Husks are immune to bleedingcitation needed but are otherwise no more resilient than a normal human; being relatively fragile, they are easily dispatched.
Upon being attacked by a Husk, characters have a 50% chance of being infected by the Husk parasite (also known as Velonaceps Calyx Eggs). The infection can be temporarily slowed by infecting other players, "appeasing" the parasite, although the only way to truly rid oneself of the parasite is using Calyxanide or Broad Spectrum Antibiotics. Several doses may be necessary to completely remove the infection, and caution should be taken when using the latter for the Internal Damage it deals may prove fatal. These treatments only work during the first and medium stages of the affliction, and using them on a fully infected Husk will only inflict damage - which may prove useful since their recovery is impossible at this point.
Damage Values
[
]
Item

Afflictions

Structure Damage

Kinematic Force

Attack Duration

Cooldown
Facial Spike

Bite Wounds 5
Bleeding 5 (75% chance)
Husk Infection 5 (50% chance)
Stun 0.5 sec

0

6

0.25 Seconds

3.0 Seconds
| | |
| --- | --- |
| Item | Facial Spike |
| Structure Damage | 0 |
| Kinematic Force | 6 |
| Attack Duration | 0.25 Seconds |
| Cooldown | 3.0 Seconds |
Trivia
[
]
Regalis has mentioned the possibility that Husks could take on a more subtle role as a non-human traitor in Traitor Mode. They would posses unusual abilities and the potential to pass off as regular humans, including abilities such as resistance against the pressure outside the submarine and the ability to breathe underwater.
Gallery
[
]
Audio
[
]
References
[
]