Leucocyte
Leucocyte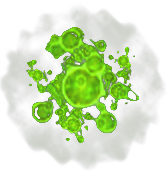 Stats
Health

25

Armor

None

Weakpoints

N/A

Armored Points

None

Speed
Walking

20

Swimming

20

Behavior
Aggressive?

Always

Can Enter Submarine?

Yes

Sight

1

Hearing

1

Drops
only 1 of the items marked with an asterisk * may drop at a time
Item(s)
Chance
Paralyxis (x1)
100%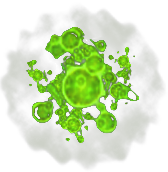 The Leucocyte is an algae-like creature that lives among Thalamus Wrecks.
Leucocytes can be very small and quite agile, and are one of the few creatures capable of entering the submarine. Leucocytes resemble a sort of green algae in a spherical shape. They move around by pushing towards a particular direction. Leucocytes are very capable of eating away at hull and entering the Submarine and killing Humans by inflicting Internal Damage and Paralysis. Leucocytes also, upon sense of a submarine or Human, create many tiny versions of themselves called Terminal Cells, which assist them in attacking.
Leucocytes are spawned by Thalamus' Cell Spawn Organs.
Leucocytes are almost harmless on their own, but their behavior results in them stacking together, usually within the same "spot", this results in their target often being stunlocked into immediate severe paralysis, and then beaten to death. Its advised to bring a minimum of one other person with you, as leucocytes will make large crowds in rooms with Cell Spawners, and will immediately rush you. Listen out for distinct, high pitched ringing, as that is one of the only warnings you get that Leucocytes are nearby.
Leucocytes (or leukocytes) are alternative names for white blood cells, whose behavior and purpose is similar to the in-game enemy.